When school is in session, it seems I never find the time to blog about reading. Terrible. Truly terrible. Reading is still my passion, even when I'm spending hours grading essay after essay...after essay after essay. I digress.
A few books are back on the shelf since my last update, with an ever-growing pile sitting on the side table to read (and a few on my Kindle). Side note: today I discovered "McKay" in Nashville. Used book Heaven - check it out.
My posts today are more "book jacket summaries" than reviews, but I'm giving credit where credit is due - I did not write these summaries...I borrowed them.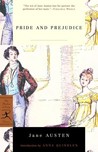 Pride and Prejudice
by
Jane Austen
My rating:
5 of 5 stars
"It is a truth universally acknowledged, that a single man in possession of a good fortune must be in want of a wife."
From Goodreads:
So begins
Pride and Prejudice
, Jane Austen's witty comedy of manners--one of the most popular novels of all time--that features splendidly civilized sparring between the proud Mr. Darcy and the prejudiced Elizabeth Bennet as they play out their spirited courtship in a series of eighteenth-century drawing-room intrigues.
My thoughts:
Hands down, a damn fine piece of literature. Jane Austen creates a world you want to march right into and never leave. Her characters are dynamic. Her prose is flawless. Her settings are timeless. And Mr. Darcy - well, let's just say if he's offering me wine, I will not be turning that down. A five-star classic that is as poignant and relevant today as when it was first penned.
Bossypants
by
Tina Fey
My rating:
3 of 5 stars
From Goodreads:
Before Liz Lemon, before "Weekend Update," before "Sarah Palin," Tina Fey was just a young girl with a dream: a recurring stress dream that she was being chased through a local airport by her middle-school gym teacher. She also had a dream that one day she would be a comedian on TV.
She has seen both these dreams come true.
At last, Tina Fey's story can be told. From her youthful days as a vicious nerd to her tour of duty on Saturday Night Live; from her passionately halfhearted pursuit of physical beauty to her life as a mother eating things off the floor; from her one-sided college romance to her nearly fatal honeymoon—from the beginning of this paragraph to this final sentence.
Tina Fey reveals all, and proves what we've all suspected: you're no one until someone calls you bossy.
My thoughts:
While I understand this was "her story," I wanted it to be funnier. The writing fell flat for me in several places; it lacked the sharp wit I've seen from her in performance. But then again, she's famous for her delivery of lines, not necessarily writing them. A solid read, but not a laugh out loud for me (albeit there were moments so don't get me wrong here). But that's okay - I still love Tine Fey.

The 5th Wave
by
Rick Yancey
My rating:
3 of 5 stars
From Goodreads:
After the 1st wave, only darkness remains. After the 2nd, only the lucky escape. And after the 3rd, only the unlucky survive. After the 4th wave, only one rule applies: trust no one.
Now, it's the dawn of the 5th wave, and on a lonely stretch of highway, Cassie runs from Them. The beings who only look human, who roam the countryside killing anyone they see. Who have scattered Earth's last survivors? To stay alone is to stay alive, Cassie believes, until she meets Evan Walker.
Beguiling and mysterious, Evan Walker may be Cassie's only hope for rescuing her brother—or even saving herself. But Cassie must choose: between trust and despair, between defiance and surrender, between life and death. To give up or to get up.
My thoughts:
Eh. Eh. (shoulder shrug) Eh. It's not bad. But, it's not great. Just average for me. Another dystopian novel; another end of the world teens save us all concept. Albeit, there were hidden aliens, and that's pretty cool. I didn't like Cassie - she was whiney, but I do like Ringer (a somewhat minor character that I think it going to become MAJOR in the next book, so I'll keep reading the series). I think the concept is actually plausible, the idea that there are aliens living among us and one day - BAM! They are taking over (yes - I believe in aliens because c'mon - this cannot be all there is). I just hope the human race handles themselves a little better than these guys.
The Miniaturist
by
Jessie Burton
My rating:
5 of 5 stars
From Goodreads:
"There is nothing hidden that will not be revealed..."
On a brisk autumn day in 1686, eighteen-year-old Nella Oortman arrives in Amsterdam to begin a new life as the wife of illustrious merchant trader Johannes Brandt. But her new home, while splendorous, is not welcoming. Johannes is kind yet distant, always locked in his study or at his warehouse office-leaving Nella alone with his sister, the sharp-tongued and forbidding Marin.
But Nella's world changes when Johannes presents her with an extraordinary wedding gift: a cabinet-sized replica of their home. To furnish her gift, Nella engages the services of a miniaturist-an elusive and enigmatic artist whose tiny creations mirror their real-life counterparts in eerie and unexpected ways . . .
Johannes' gift helps Nella to pierce the closed world of the Brandt household. But as she uncovers its unusual secrets, she begins to understand-and fear-the escalating dangers that await them all. In this repressively pious society where gold is worshiped second only to God, to be different is a threat to the moral fabric of society, and not even a man as rich as Johannes is safe. Only one person seems to see the fate that awaits them. Is the miniaturist the key to their salvation . . . or the architect of their destruction?
Enchanting, beautiful, and exquisitely suspenseful,
The Miniaturist
is a magnificent story of love and obsession, betrayal and retribution, appearance and truth.
My thoughts:
This book really deserved its own blog. It is amazing. I found myself with a serious book hangover after finishing this novel. It's the kind of book you don't want to end, but you're clawing at the pages to find out the story. And then when it's over - you want to start it again. Jessie Burton weaves an intricate tale of crossed language, crossed lovers, and crossed lives. Every character - Marin, Johannes, Nella - even the maid the man-servant - come to life in a way that becomes part of the reader's world. I know them. And I want to see them again. Best novel I've read in a long time. Well worth the wait!
The Revenant: A Novel of Revenge
by
Michael Punke
My rating:
3 of 5 stars
From Goodreads:
The year is 1823, and the trappers of the Rocky Mountain Fur Company live a brutal frontier life. Trapping beaver, they contend daily with the threat of Indian tribes turned warlike over the white men's encroachment on their land, and other prairie foes--like the unforgiving landscape and its creatures. Hugh Glass is among the Company's finest men, an experienced frontiersman, and an expert tracker. But when a scouting mission puts him face-to-face with a grizzly bear, he is viciously mauled and not expected to survive.
The Company's captain dispatches two of his men to stay behind and tend to Glass before he dies, and to give him the respect of a proper burial. When the two men abandon him instead, taking his only means of protecting himself--including his precious gun and hatchet-- with them, Glass is driven to survive by one desire: revenge.
With shocking grit and determination, Glass sets out crawling inch by inch across more than three thousand miles of uncharted American frontier, negotiating predators both human and not, the threat of starvation, and the agony of his horrific wounds. In Michael Punke's hauntingly spare and gripping prose,
The Revenant
is a remarkable tale of obsession, the human will be stretched to its limits, and the lengths that one man will go to for retribution.
My thoughts:
My family started this book on a whim before we even knew it was to become a movie. We needed an audiobook for traveling, and there is was. The story is solid - it's historical fiction so what I wanted to happen in the end didn't, but if you're true to the story you can't rewrite a fact. Even my son (who is eleven) thought it was a good book. The characters are interesting is a way modern men are not, which gives the book some grit. Definitely a novel I think men would enjoy more than women due to the nature of the characterization, but overall a solid read.
And finally:
Red Riding Hood
by
Sarah Blakley-Cartwright
My rating:
1 of 5 stars
Do not bother. The premise is sound, the writing is abysmal. I try so hard not to give poor reviews, to find something redeemable about the text, but I simply can't. Characters - flat. Story - uneventful. Writing - It baffles my mind this person graduated from an accredited program. I almost DNFed this book, but I pushed through with a skim to get to the end.
Watch the movie - at least there's eye candy.
Upcoming novels I'm excited to share: