So - clearly school started. It's always obvious because there's a huge gap in my reviews. I still find as much time to read as I can (this usually takes place at 5a because by 9p I digest about three words and I'm out cold!), but I don't get to update my thoughts on books as often. So this is going to be a broad sweep. Happy Reading!
I Always Loved You
by
Robin Oliveira
My rating:
2 of 5 stars
I Always Loved You
had such promise. The premise of Edgar Degas, Paris, art. And then it failed me. The story is deeply flawed with trite characters, albeit they are based on real people and may very well be accurate, that prove real life does not always make great fodder for fiction. Case in point - this novel.
Degas spurns the affections of almost everyone he meets, and Mary Cassett (a somewhat naive American - which I resent that implication...we aren't all dimwitted) can't seem to understand that this is who he and who he'll always be. There is no love in this novel and I can't for the life of me fathom the title. The two-stars I did give simply had to do with it was Paris. And Paris always merits love from me.
I cannot recommend this book. This is the third time a novel from the show "Well-Read" has been a huge disappointment. I have to wonder - do they read what they recommend?
Red Queen
by
Victoria Aveyard
My rating:
3 of 5 stars
The Red Queen
thrusts the reader into dual class society separated by blood. The royal "Silvers" bleed silver, and the second class "Reds" bleed red. It implies the use of Greek Mythological powers on the "Silvers" to set them apart as a special breed - they are magic.
For me the novel reminded me of
The Selection
, and a little bit of
Shadow and Bone
, but with magic and more violence. Mare, a "Red" discovers through sheer will that she has the powers of a "Silver." This sets off a chain of events that shock even the evil queen, because this isn't supposed to be. Her power has the power to save her or condemn her - the question is, what will it be?
In an unsettling turn of events that forces her into the world of "Silvers," Mare has to learn her new place. But an burning desire to see equality (isn't that always the way?) puts her on the path of revolution. An incognito group known only as The Scarlet Guard is planning to launch a rebellion and with Mare on the inside of the castle walls, she's just the girl they need to make things right. But her betrothed Prince creates an obstacle for her she never saw coming.
She has to play this game, and not only her life is at stake.
This novel is a typical dystopian YA book, but I liked it. The characters were enjoyable and I'm looking forward to the sequel due out February 9, 2016. I've marked my calendar.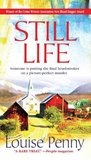 Still Life
by
Louise Penny
My rating:
3 of 5 stars
A simple mystery in a simple town with lovable characters and a somewhat predictable plot. But, that's okay. A mystery doesn't always have to rip us to shreds - sometimes it's to fun to read a suspense novel with enough comic relief to relax the reader.
Jane Neal, a beloved woman of the community, has been found dead in the woods. Chief Inspector Armand Gamache of Québec and his team of investigators are called in to the scene. The locals are convinced it must just be a tragic hunting accident, but Gamache's years of experience tell him something here is amiss.
Still Life
is the first book in a series of detective Gamache novels. They are light, quick reads. I enjoyed and would read another in the series.

Cinder
by
Marissa Meyer
My rating:
4 of 5 stars
Saving the best for last on my updates today.
Cinder
by Marissa Meyer.
I really enjoyed this book. The sci-fi take on Cinderella as a cyborg is just too good of an idea to not love.
Set in the future world of New Beijing, humans and androids travel the street together. A deadly plague is ravaging the population though, and a sudden outbreak near Cinder's station (she's a gifted cyborg mechanic) sets off a chain of events that change her entire world. The Lunar people that live in space are watching all of this unfold waiting for the right moment to descend upon the Earth an assert their claim to the throne.
They are all watching Cinder.
She doesn't understand the reason why she's special. Her entire life she's been nothing more than a second-class citizen with a mysterious past. As the story should reveal - her stepmother hates her and blames her father's death and her now stepsister's contracting of the plague. However, despite her unlucky circumstances, Cinder crosses paths with the handsome Prince Kai's thrusting her into his world.
Inside his palace, she learns secrets about herself, secrets the Lunar people may already know, and this makes every choice she makes dangerous.
View all my reviews